Become a Business/Nonprofit Partner of the Earthville Network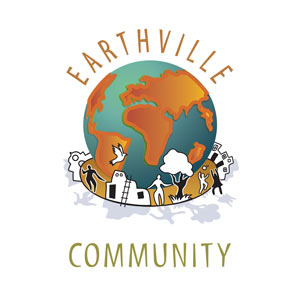 The Earthville Network recognizes that success is built on fruitful collaboration. We cultivate strategic partnerships with other nonprofit organizations and responsible businesses, cooperating for the benefit of all. Here are some of the partner organizations with which we collaborate in pursuit of our shared altruistic missions:
Earthville LLC – A socially and environmentally responsible business promoting the arts, sustainable living, and compassionate commerce
Joseph H. Navach Project – A health science project based at the University of Arizona at Tucson working to research and develop promising alternative diagnostic and treatment techniques, focusing on the Vascular Autonomic Signal (VAS), a subtle yet measurable aspect of the pulse
One People, Inc. – An arts and media production company working to produce and curate art, support artists and build community among artists worldwide
SanghaSeva – Organizing "meditation in action" retreats that integrate quiet meditation with volunteer service work worldwide
The Sulha Way – A nonprofit organization leading the grassroots peace movement in Israel/Palestine
Tamera Healing Biotope – A cooperative of people who work for a future without war, building a model for a nonviolent culture. Based in Portugal.
Universal Compassion Movement – An NGO based in India the mission of which is to bring people together to engage in compassionate practice on behalf of unfortunate sentient beings who cannot speak of their wish and their rights to live in peace
Vietnam Fund for Education, Music, and Infrastructure – An NGO dedicated to improving the lives of people in Vietnam through children's programs, traditional music, and construction of schools and roads.
Partner with Us
The Earthville Network welcomes other organizations to contact us about possible partnership, collaboration and sharing of information, wisdom and resources. If the philosophy, policies and practices of your educational institution, nonprofit organization or socially and environmentally responsible business are aligned with Earthville's mission and principles, consider contacting us about becoming an Earthville Ally. As an Ally in the Earthville Network, your organization may benefit from:
Opportunities for win-win collaboration with Earthville on one-time or ongoing projects
Our global community of Earthville Citizens and Allies with fresh ideas and new resources for your work
Opportunities for sharing information, solutions, resources and other synergies
Global and local attention for your organization through Earthville's website and our activities
To discuss possibilities for partnership, please introduce your organization and your work here.
We look forward to connecting with you!
Get Involved
We welcome you to explore Earthville,  find your place within it , and add what only you can bring.