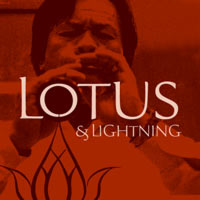 Lotus & Lightning is a project leveraging the power of music and film to generate awareness and funding for cultural preservation and infrastructure development projects in Vietnam.
This mixed-media project explores a rapidly changing Vietnam, primarily through the lens of the art and life of one man and his family. Virtuoso musician Nguyễn Ngọc Khánh has been celebrated a "national treasure" in Vietnam. His music carries the stories of past generations, and the spirit of a nation and its people. By embodying the essence of traditional Vietnamese culture, Khánh's music is a constant reminder of the beauty and uniqueness of Vietnam and its history.
The Music
The project has produced and released two CDs of traditional Vietnamese music to benefit the cause, both on the Earthville Music nonprofit record label:
Fire in the Lake ~ by Ngyuen Ngoc Khanh
A thrilling specimen of authentic, powerful Vietnamese traditional music from an award-winning master musician acclaimed as a "national treasure" in his home country of Vietnam for his virtuosic performances on the ken and erhu.
iTunes
Ancient Flower ~ by Hoa Trang An
The strings of Hoa Trang An resonate with the mesmerizing melodies of traditional music from all corners of Vietnam, painting poetically with the rich cultural palette of their homeland.
iTunes
The Film
The Lotus & Lightning project also includes a proposed documentary film. Footage has been shot and outline for the film has been written. You can watch the teaser here:

If you would like to help with funding to complete the project, please contact us or make a donation here and include a note that your donation is for Lotus & Lightning.
The Players
Lotus & Lightning was launched in 2007 as a collaboration between the Vietnam Fund for Education, Music, and Infrastructure, Naked River Films, and  Earthville Arts.
The original Lotus & Lightning project website from 2007 is archived here.