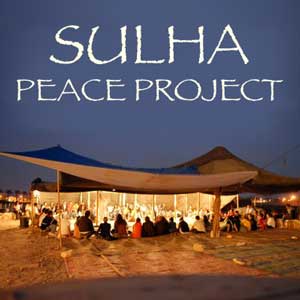 The Sulha Peace Project is a grassroots reconciliation program rebuilding trust between neighbors in Israel and Palestine through events and workshops that facilitate deep human connections. Sulha conducts annual grassroots peacemaking conferences that attract up to 4000 participants and international media coverage, as well as "Sulhita" workshops for youth in the US and elsewhere. Sulha events are attended by a great diversity of people representing all of the spiritual traditions in the region (Christians, Druze, Jews, Muslims, Sufis, et al), including many from the West Bank and a small number (as many as are allowed to cross the border) from Gaza.
The Sulha Approach to Peacemaking
We are a group of Israelis and Palestinians who meet regularly to encounter the other in our full humanity. Together, we demonstrate that we, the "children of Abraham/Ibrahim," share a common destiny.
In 2001, at the height of the El Aksa intifada, when Israel and Palestine were locked into terror of the other side, the Sulha Peace Project was born. As coffee shops exploded and soldiers fired into crowds of youths, Sulha brought Israelis and Palestinians together in a human encounter and, through wholehearted listening, we explored and strengthened the bonds that link us with each other. The waves of inspiration rippled far and wide back into the communities of those who participated and, as the word spread, the numbers attending Sulha's peacemaking events grew every year.
Sulha's Values
In contrast to the current atmosphere of distrust, cynicism and despair, we stand for the possibility of cooperation, shared responsibility, and hope. While our societies demonize those on the other side, we humanize them. Through our common efforts, we create interaction between our peoples while others alienate. While we avoid polarizing political declarations, we know that any political future must address the human needs of both sides, and we stand on the front lines of the struggle to return decency and compassion to our shared land.
Sulhita Peace Programs for Youth & Women
Several times each year, Sulha sponsors "Sulhita," a gathering of 40-80 youths (ages16-21) who spend several days discussing the issues that concern them. Young Israelis, pre-army service, and their Palestinian peers discuss how they feel about the fact that they may soon find themselves facing each other in confrontations at roadblocks, or in battle. The youths hike in the Judean desert, prepare meals together, sing, drum, dance, and talk deep into the nights, sharing their visions of possible futures, revealing the vibrant optimism and intention of youth. They attain a sense of commonality that lasts well beyond Sulhita, and many of them become volunteers at adult Sulha events. These Sulhita events also take place in the USA.
In addition to Sulha and Sulhita, the "Tent of Sarah and Hagar" brings women together to provide a safe environment for women — secular and religious, Israeli and Palestinian — to reach out to each other.
For more information, visit the Sulha website.
Donate to Support the Sulha Peace Project
Sulha was initiated in 2001 by Gabriel Meyer and Elias Jabbour and its US presence was formalized as a project the Earthville Network in 2002.