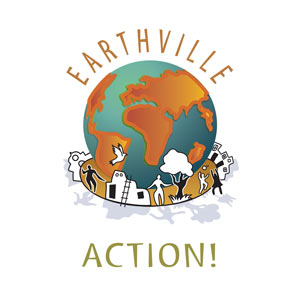 Now that we're here on earth, what do we do?
Our experience (and that of countless others across the centuries) says the greatest personal satisfaction in life comes from doing something kind for someone else. And some of the earth's wisest voices say it is also our responsibility to act:
Sometimes we feel that one individual's action is very insignificant. … But the movement of the society, community or group of people means joining individuals. Society means a collection of individuals, so that initiative must come from individuals. Unless each individual develops a sense of responsibility, the whole community cannot move.  So therefore, it is very essential that we should not feel that individual effort is meaningless — you should not feel that way. We should make an effort.

— H.H. the Dalai Lama, from The Dalai Lama's Book of Love and Compassion
We see compassionate action as one of the core elements of responsible global citizenship, and we see a lifetime of compassionate action as being necessary to achieve and maintain sustainable thriving.
Earthville offers a variety of ways for caring global citizens like you to put compassion into action.
Join the Earthville Network
Sign up to become a member of the Earthville Network and participate in our global community of warm-hearted people.
› Join
Enlist as an Earthville Action Hero
Subscribe to the Earthville Action Hero Blog to receive timely action alerts, including online petitions you can sign with just a click or two, shout-outs to spread the word about important events and issues on your social networks, and other calls to action.
› Jump to the Earthville Action Hero Blog
Step Up As a Leader for Sustainable Thriving
Are you strongly committed to living a fulfilling life of compassion, in harmony with nature and with other living beings? And do you aspire to develop your full potential as a leader or catalyst for creating a more sustainable and compassionate world? If so, the Leadership for Sustainable Thriving training program at Dharmalaya Institute is designed for you.
› Learn more about the Leadership for Sustainable Thriving training program
Volunteer at Home, Abroad, or Online
Earthville offers a variety of opportunities for volunteering, both at home and abroad, including virtual volunteering online.
› Check out Earthville's Volunteer page
Sponsor Tree Plantings to Help Offset Your Carbon Footprint
Earthville Orchards is a carbon offset and green jobs program enabling conscientious global citizens and responsible businesses to sponsor tree plantings in India to help reduce your net carbon footprint while creating green jobs for rural villagers.
› Learn more and sponsor tree plantings
Karma Yoga: Put Meditation into Action in the Himalayas
The Dharmalaya Institute in the Indian Himalayas provides many opportunities for meaningful service for mutual benefit, some of which include an experiential education component ("service-learning" or "learning by doing"). Would you like to learn about a new culture or language while doing volunteer work with kindred spirits from other places for a project that benefits the community and the environment?
› Visit the Dharmalaya Institute's website
Join the Global Alliance for Interfaith Action (GAIA)
The Global Alliance for Interfaith Action (GAIA) is a community of caring global citizens with diverse backgrounds and beliefs (including the spiritual and the secular) who are united in our commitment to collaborate creatively to relieve suffering and increase harmony.
› Read more about GAIA and join the Alliance
Give to Support Earthville's Work
Another very helpful action is to make a charitable contribution to the Earthville Network.
› Give