Not everybody can be famous. But everybody can be great, because greatness is determined by service.
— Dr. Martin Luther King, Jr.
Put Compassion into Action — at Home, Abroad, or Online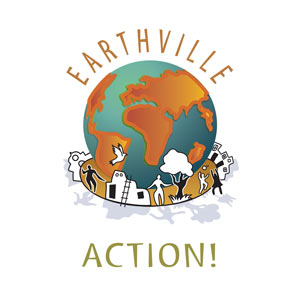 It's caring people like you around the world who make Earthville's work possible by volunteering their time and skills. We are proud to be a volunteer-driven organization (even our president works pro bono, for the joy of caring for others and the planet we share).
The kindness of so many people who have volunteered to support Earthville's charitable projects and events is what has enabled Earthville to accomplish so much good on a surprisingly slim budget.
As we grow, we need even more skilled help to meet the demand for our programs and services, and your talents could make a big difference.
Below is a list of services that are especially needed, grouped into six categories.
Note that some of these needs are US-based, while a few are based in other countries, and some tasks can be done from anywhere in the world if one has Internet access.
Internships, Volunteer & Service-Learning Opportunities, by Category
Follow any of the links below to jump to the section that interests you most:
Internships & professional development programs: Gain experience by working with Earthville (US & India)
Creative/media/tech services (worldwide)
Photography
Graphic design
Website development (complex, database-driven)
Video editing and documentary film production
Ecological/Sustainability activities (primarily in India and Nepal)
Dharmalaya Institute and Earthville jointly offer the Leadership for Sustainable Thriving training program for those interested in developing their knowledge and leadership skills to become more effective changemakers for a sustainably thriving world.
› more info
Dharmalaya Institute also offers a very popular Internship in Vernacular Eco-architecture for architects, engineers, and designers interested in earthen building (Indian Himalayas)
› more info
Eco-friendly construction (earthen building concepts and design)
Organic agricultural training
Permaculture landscaping, design and implementation
Renewable energy systems, design and implementation
Research/writing/academic/translation services (worldwide)
Curriculum development
Research and writing papers on various topics, especially sustainability issues
Language translation for our websites and other materials (all major languages)
Copy editing for various purposes (website, educational materials, etc.)
Teaching/training (primarily in India and Nepal)
Language instruction (mostly English and Hindi languages)
Computer skills (from the office basics to design, DTP and media production)
Training in digital video editing and documentary film production
Training in organic agriculture (e.g. biointensive and permaculture)
Training in eco-friendly handicrafts and cottage industries with marketable products
General environmental education
Administrative & legal services (primarily in the US, India and Switzerland)
Grantwriting and professional fundraising services
Accounting (CPA) services
Legal services (especially nonprofit and entertainment law in the US, India and Europe)
Office/administrative tasks (long-term)
Project management services (time- and location-dependent)
Order fulfillment services (stocking and shipping items ordered from our websites; US-based)
If you are trained or experienced in any of the areas above and you might be willing to volunteer for a period of time or even work pro bono on an ongoing basis to support Earthville's nonprofit projects and events, please contact us here. Your help could make a world of difference.
Note that many of the service opportunities listed on this page require training and experience, and most require a time commitment of at least a few months.
For volunteer and service-learning opportunities in India, please visit the Dharmalaya website.
Thanks for your interest!