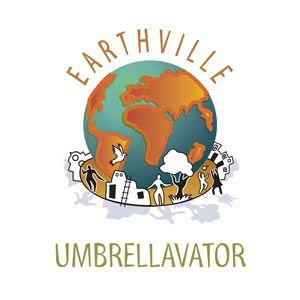 The Earthville Umbrellavator is a charitable incubator for nonprofit projects closely aligned with Earthville's mission and principles.
The Umbrellavator supports emerging environmental and social entrepreneurs with promising charitable project ideas by giving them a home under the Earthville Network's legal umbrella and taking care of most the legal and administrative work for them so they can focus on what they do best: the actual service work that inspires them most.
Collaboration: Beyond Fiscal Sponsorship
The Earthville Umbrella provides more than fiscal sponsorship. Earthville provides guidance during the startup phase, depending on the needs of the project, and then we continue to be actively involved with Umbrellavator projects, providing access to our global network of potential partners and kindred spirits, and facilitating synergies as appropriate. We seek the optimal degree of autonomy and collaboration for each project relationship.
Featured Umbrellavator Projects
Current Umbrellavator projects include:
The Umbrellavator is a launching platform and isn't meant to be a project's home forever. Past Umbrellavator projects include:
SHRI Free Clinic, Bir, Himachal Pradesh, India
Women's Leadership Collaboration/West
Got Inspiration? Need Help?
If you have a great idea for a charitable project and you need help with the legalities, formalities, and administration side of the equation, Earthville may be able to help. The Earthville Umbrellavator does not provide funding (that part is up to you), but we can help process the donations you receive (for a nominal fee), and your donors will be able to take a tax deduction for the contribution to your work, which makes your fundraising easier. We also offer our experience and our vast network of friends and partners. We are enthusiastic about collaborating with people whose inspirations align with ours.
Take a look at Earthville's mission and principles and, if you believe your idea might be a match, you're welcome to contact us to introduce yourself and your charitable project idea, and we'll take it from there.
Also see our article on Starting a New Nonprofit/Charitable Project.