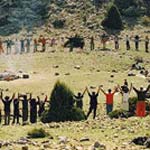 Human Family Peace Project conducted workshops and conferences in Turkey, India, and the USA to foster social and cultural awareness as a foundation for global harmony.
It was conceived in 2008 by international volunteers and established as an Umbrellavator project of the Earthville Network in 2009.
Human Family Peace Project operated until 2011, when its director, Priya Assal, built on HFPP's foundations to create The Blend, a cross-cultural, interfaith musical collaboration project bringing together artists from the Middle East to express solidarity through music.
Related Stories
Human Family Peace Project Holds Workshop in Turkey (July 1, 2009)
Related Projects
Sulha Peace Project: Rebuilding Trust Between Neighbors in Israel & Palestine