Art with Heart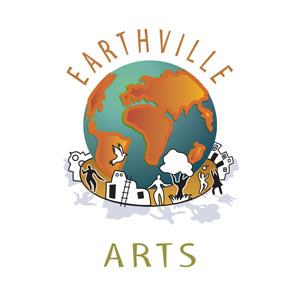 Earthville Arts is a global charitable project tapping the power of creativity, the arts, and media technology to create a more harmonious and sustainable global village. Our focus is creative projects and events that "feed three birds with one seed": supporting the arts and bringing inspiring art to the global public while improving our communities and our world.
The Earthville Arts Mission
Our mission is to empower individuals and uplift communities through the power of creativity, music, and the arts. We leverage the great power of human creativity and expression to facilitate cross-cultural understanding, appreciation, and connection between people worldwide, and to raise awareness of important issues and raise funds for charitable activities.
Music, Video & Events
Earthville Arts has three intertwining branches of activity: music, video, and events.

MUSIC: Earthville Music is an artist-oriented, artist-run record label cutting positive grooves from across the planet, with proceeds supporting Earthville's charitable projects worldwide.
› see the Earthville Music page
FILM: Earthville Arts is incubating several film and video projects to raise awareness on important issues while raising funds for charitable activities. Earthville Arts is a co-creator of the Lotus & Lightning project, which has produced two CDs of traditional Vietnamese music (iTunes: Fire in the Lake by Nguyễn Ngọc Khánh and Ancient Flower by Hoa Tràng An) and is developing a documentary film on the story of tradition and change in Vietnam as viewed through the life of celebrated musician Nguyễn Ngọc Khánh. We are also supporting the production of Naked Mind, a documentary film exploring mindfulness and meditation.
› see Lotus & Lightning • see Naked Mind
EVENTS: Earthville Arts produces benefit concerts featuring artists from around the world in support of charitable programs. To date, we have produced over a dozen concerts in the USA and India.
› see our events calendar
Earthville Press: Books & Publications
Earthville Press is a nonprofit imprint publishing written works on topics related to Earthville's mission to promote compassionate living and empower caring change-makers › more
Interns Needed
Earthville is now accepting applications for interns who love music and/or books and are interested in gaining experience in the new indie music and publishing industries by volunteering with a great nonprofit. For info, see this page.
Donations Needed
Earthville Arts is a charitable project and we rely on donated equipment to be able to offer our programs, events, and services to artists and audiences. Donate your used musical instruments, recording studio equipment, digital video camcorders, computers, and other digital media items to our nonprofit charitable projects. For more, see this page.
Earthville Arts was founded by Mark Moore in 1997 as a community arts initiative (originally under the name "CreatioNation") and formalized as a project of the Earthville Network in 2003.