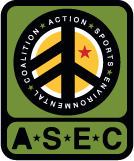 The Action Sports Environmental Coalition (ASEC) was a sustainability initiative to unite action sports athletes, business owners, and industry workers around our common interest of environmental conservation, preservation, and awareness.
ASEC's principal objectives are to provide environmental education for the public and to green the multi-billion dollar actions sports industry.
ASEC was establish in 2003 by Frank Scura and Tirza Naramore as an Umbrellavator project of the Earthville Network, and ran until 2011 when the founders moved on to other work.
For more information, visit the ASEC website.