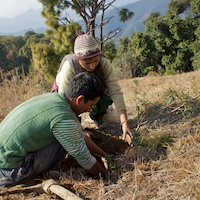 Your donation to sponsor tree planting at the Earthville Orchards is being processed.
You should receive a receipt by email shortly (which you can use for tax purposes if you're claiming a deduction).
We appreciate your support of clean air and green jobs!
Green tip: It's a great idea to make a recurring entry in your calendar to remind yourself to sponsor tree plantings monthly or yearly, to offset your carbon footprint regularly.
Get Involved
We welcome you to explore Earthville,  find your place within it , and add what only you can bring.