The Dharamshala Earthville Institute (DEVI) was the first-ever Earthville project: a small, volunteer-run community service initiative based at KhanaNirvana Community Café that offered the first volunteer placement program in the Dharamshala/McLeodGanj area of the Indian Himalayas and several other charitable, educational, and creative programs.
The Life & Work of DEVI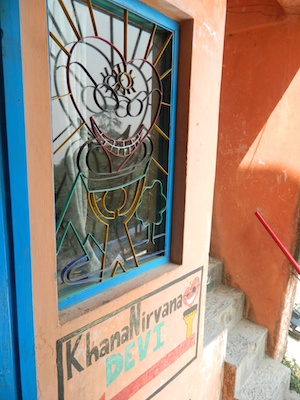 DEVI was founded in April 1997 by a group of (completely inexperienced but very enthusiastic) young volunteers, with guidance from leaders and luminaries in the community. In the interest of creating a financially self-sustaining model, DEVI's cofounders also established the not-for-profit KhanaNirvana Community Café to generate revenue to support charitable initiatives and provide employment and vocational training for refugees, who wold gradually assume increasing responsibility for managing the project.
Dharamshala was chosen as the site of the Institute because of the fact that it was (and still is) a fertile and fascinating international crossroads attracting interesting people from all walks of life and all corners of the globe, including Nobel scientists, spiritual seekers, movie stars, artists, writers, adventurers, ecologists, students, activists and just about everyone else. This diversity and intensity of interest made Dharamshala a fruitful recruiting ground for DEVI's popular volunteer placement program and also a conducive location for cross-cultural and interfaith programs.
At the request of local community leaders, established its volunteer placement program in 1997 to help with matchmaking between capable volunteers and the local agencies that could most use their help. In the years that followed, DEVI facilitated hundreds of international participants to perform voluntary service work in the Dharamshala area.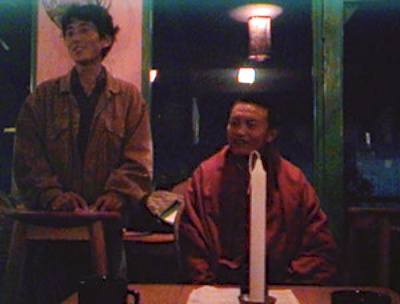 DEVI also hosted an ongoing series of weekly community programs including a Sunday lecture series (frequently inviting former prisoners of conscience and other speakers with eye-opening stories to tell), documentary film screenings, and cultural and artistic events.
As the age of the Internet began to approach Dharamshala, DEVI collaborated with the Institute of Buddhist Dialectics to establish a computer training program for refugees in Dharamshala and across India. Two DEVI volunteers (including Earthville's founder) developed a syllabus, taught the first courses, trained two teachers and turned the program over to them.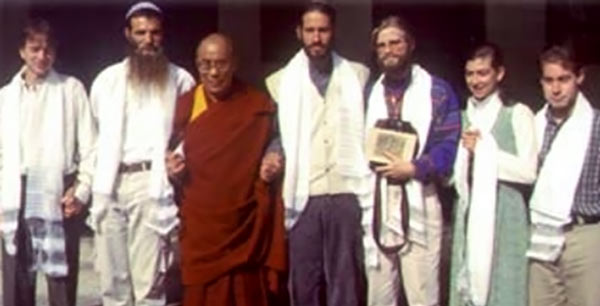 In October 1997, the founders of the Dharamshala Earthville Institute were granted an audience with H.H. the Dalai Lama, where they proposed to him the idea of conducting series of interfaith dialogues and cross-cultural collaborations in Dharamshala, and they received his blessing for these programs:
His Holiness the Dalai Lama is pleased to support the programmes of the [Dharamshala Earthville Institute]… [that] reflect his interest in all the great wisdom traditions of the world with a view to finding the common ground and appreciating the richness of the differences.

— Office of H.H. the Dalai Lama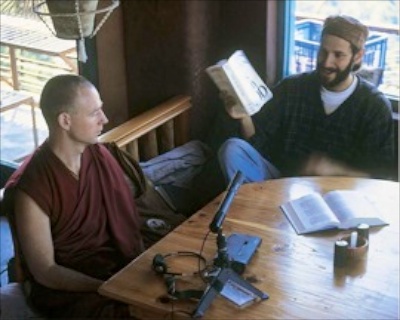 Earthville continued to operate these cross-cultural programs and interfaith dialogues in Dharamshala until 2001. These programs and events were attended by a total of over 4000 participants and garnering international media coverage.
In 2001, DEVI's international founders turned over the entire project — DEVI and KhanaNirvana — to their Tibetan refugee staff to run as their own, which they did successfully for the following eleven years.
DEVI closed permanently in December 2012 when its lease was terminated, and its assets were transferred to the Dharmalaya Institute in Bir, which serves a similar mission with a broader scope of activities.
A Personal Note
The founders of DEVI learned many cherished lessons in their work in Dharamshala (sometimes the hard way, of course), which continue to inform us in our lives and work today (some of which continues in Bir, a mere 2 hours to the east). We will always be grateful for the opportunity to have learned and served for several years of our young (and sometimes clumsy but always earnest) lives in a place so rich with both uncommon challenges and uncommon wisdom. We extend our heartfelt thanks and warmest wishes to all the people we met along the way, and especially to the many who helped and supported us in so many ways. Special thanks to all of our employees, many of whom also became our friends, and all of whom taught us something and made a lasting impression in our hearts. Extra-special thanks to Pema for doing such a great job in the final years, and for helping us make the transition from Dharamshala to the Dharmalaya Institute. And to H.H. the Dalai Lama, there are no words adequate to express our gratitude for your immeasurable kindness, wisdom, and inspiration. May all be auspicious, and may all beings be happy!
Note: if you arrived at this page because you are interested in volunteering in the Dharamshala area (including McLeodGanj, Sidhbari, et al), see this page.
The information below, from DEVI's original webpage, is preserved for archival purposes, for the benefit of those who are interested.
DEVI: A Gathering Place for Caring Global Citizens in McLeodGanj/Dharamshala
The Dharamshala Earthville Institute (DEVI) is a small, volunteer-run community service project offering educational and service-learning programmes and promoting cross-cultural appreciation and personal empowerment. It is located in the unique Himalayan town of Dharamshala (also spelled 'Dharamsala', 'Dharmshala' and 'Dharmsala') in the state of Himachal Pradesh in northern India.
Housed in KhanaNirvana Community Café, DEVI serves the local community and domestic and international visitors who come to Dharamshala to learn and to serve. DEVI makes its programmes and facilities available to all who wish to 'break through the tourist bubble' and make a meaningful connection with the faces and places around McLeodGanj and the greater Dharamshala area.
DEVI's Community Programmes & Services
DEVI's main activities included:
Sunday@Sunset public talk series at KhanaNirvana Community Café, featuring former Tibetan prisoners of conscience and other topics of interest
Volunteer opportunities for anyone who wants to make a difference (see below)
Education and training including English classes, computer education and vocational training for Tibetan refugees
Showings of documentary films on India and Tibet as well as other topics of regional, global and spiritual interest
Dharma talks and interfaith dialogues
Concerts and performances including a weekly 'Open Stage' ('open mic' without the mic) featuring music and poetry from around the world
'I Love Dogs' campaign, which has vaccinated hundreds of street dogs against rabies and other diseases, helping to stop an epidemic rabies outbreak and saving the lives of dogs and humans.