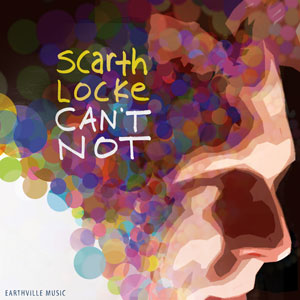 The third and most extraordinary album to emerge from the eclectic creative mind of singer and multi-instrumentalist Scarth Locke, who explores new territory while diving more deeply into where he's always been. Free preview at SoundCloud.com.
Four years in the making, Can't Not arrives on CD and downloadable formats April 2014.
You can order the CD or digital download (AAC/MP3/24-bit lossless) version below. (Alternatively, you can order from iTunes or Amazon.com if you prefer, but the artist benefits most if you order direct from us on this page.)
25% of the proceeds from sales of Can't Not benefit the charitable work of the Earthville Network, and the rest goes to nourish the artist, so thanks for supporting good music and good causes with your purchase!
Download Version: MP3/AAC/Lossless Downloads Only (No CD)
CD Orders (choose CD only or CD+download)
Tracks:
1. All the Way Down
2. Treehouse
3. Immunity
4. Burn
5. Confess
6. Daedalus
7. Homecoming
8. Same as Every Saturday
9. Disillusionment
10. If It Can Be Done at All
11. Intuition
12. With You
Free preview at SoundCloud.com.
Featured performers:
Scarth Locke: vocals, guitar, bass, piano, keyboards, drums, percussion, and nearly everything else
Dara Ackerman: backing vocals
Isobel Reed: viola
Michael Yarwood: drums
And special guest: Ellen Turner, backing vocals on Homecoming
Produced by Mark Moore for guruzero Productions.
The Can't Not CD packaging is green: The cover is made from recycled cardboard and printed with vegetable-based inks, with an eco-friendly water-based finish.