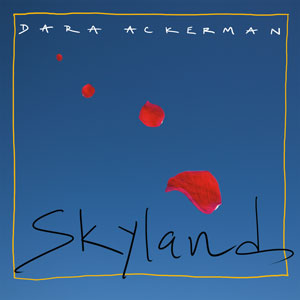 A mesmerizing debut from versatile and visionary singer-songwriter Dara Ackerman, supported by performances from a cast of astoundingly talented musicians spanning a world of styles, all united by the sublime thread of Dara's unique and profound musical and emotional sensibilities.
Eight years in the making, Skyland has finally arrived on CD on May 10, 2014.
You can order Skyland in any of three formats (or a combination):
Audio CD (shipped to your address)
Standard digital download (AAC/MP3)
High-resolution 24-bit 96kHz lossless digital download (FLAC/Apple Lossless, better than CD-quality)
PLEASE NOTE: If you choose a download option, you will receive an email with download instructions (please allow a day, give or take, as the orders are processed by the artists themselves).
25% of the proceeds from sales of Skyland benefit the charitable work of the Earthville Network, and the rest goes to nourish the artist, so thanks for supporting good music and good causes with your purchase!
CD Orders
MP3/AAC/Lossless Downloads Only (No CD)
Tracks:
1. Alive
2. Not Afraid
3. Skyland
4. She Misunderstands [featuring Glen Phillips]
5. Drama Addict
6. As You Are [featuring Ellen Turner]
7. Cowgirl in Varanasi
8. Meditation 101
9. Same Planet, Different Universe
10. Just When I Thought
11. The Love I Want
12. Into the Light
Featured performers:
Dara Ackerman: vocals, guitar, percussion
Jim Connolly: upright bass and banjo
Richard Fultineer: drums and percussion
James Hoskins: cello
Tom Lackner: drums and percussion
Scarth Locke: guitar, bass, electric piano, percussion, jaw harp, backing vocals
Mark Moore: guitar, bass, electric piano, percussion, backing vocals, production
Danny Moynahan: electric piano
Austin Nicholsen: electric and acoustic bass
Eric Oberthaler: strings, samples, and soundscapes
Joe Woodard: guitars
And special guests: Glen Phillips, Dan Phillips, Ellen Turner, Amy MacClain, Rob Taylor, Loren Olds, and Gerry Marr
Produced by Mark Moore for guruzero Productions.
The Skyland CD packaging is green: The cover is made from recycled cardboard and printed with vegetable-based inks, with an eco-friendly water-based finish.