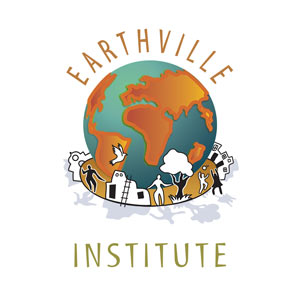 The Earthville Network seeks to establish an Earthville Institute in the US, as a part of the long-term vision of the Earthville Education initiative, providing experiential education for responsible global citizens.
The focus of the Institute's activities would be education, training, research, and charitable programs for sustainable living and compassionate global society, embodied in an innovative hybrid organizational model for learning, service, and social-benefit employment.
We have developed an inspiring vision for the Institute and a great network of potential partners, and we're almost ready to begin. This page presents a glimpse of the vision and an invitation to participate in creating this exciting and promising project.
The Vision
An Innovative, Integrated Model for Learning, Service, & Sustainable Thriving
The Earthville Institute will be a dynamic campus for the lifelong study and practice of five interrelated disciplines integral to a flourishing society:
Sustainable living
Responsible local and global citizenship
Sustainable business and social entrepreneurship
Integrated personal development, including holistic health and well-being, communication, collaboration, and leadership
Creativity and the arts, especially as applied to altruistic service and responsible entrepreneurship
The Institute will embody an integrated organizational model, a hybrid of three core elements:
A "school" for responsible global citizens of all ages, with its campus being conceived in three concentric circles: the institute itself, the local community, and the world
A charitable community development organization working to uplift the local community and contribute to a more compassionate and sustainable global village
A responsible business with multiple program-related commercial activities generating revenue to support the Institute and enable it to become financially self-sustaining
While each of these three core elements is valuable and necessary in itself, it is the synergistic connections between them that makes this integrated model uniquely promising. As a hybrid institution with an interdisciplinary approach, it will serve as a fertile ground for real-world learning in the living context of the exploration and application of effective, holistic, and sustainable solutions addressing the complex challenges of our local and global communities. Equally importantly, the many benefits of integration, cross-pollination, and economies of scale created through the intelligently collaborative coexistence of the various components will make all of them both more effective and more efficient: greater results with fewer inputs.
The campus of the Earthville Institute will serve as a showcase for regionally-appropriate best practices for ecological sustainability, and the creation and evolution of these solutions would serve as a training ground for the pioneering social entrepreneurs, experiential educators, nonprofit leaders,  ecological innovators, and altruistic creatives of today and tomorrow.
The Programs
Learning Useful Things by Doing Useful Things in an Engaging and Inspiring Community Context
Programmatically, the Earthville Institute will be a campus for lifelong learning and service and a place of meaningful and inspiring employment opportunities.  It will give highest priority to the fields of study, service, and work that contribute to a healthy and prosperous society that is more universally compassionate and keeps a reasonably light ecological footprint — an objective Earthville refers to as "sustainable thriving."
With regard to education, the Institute would begin as a "school" in a broad and informal sense of the word (providing diverse experiential learning experiences for people of all ages). We envision that, as it builds capacity, it eventually would seek academic accreditation so that it would also qualify to serve as a recognized alternative school for students who wish to attend full-time. In the longer term, we aspire for the Institute to evolve to serve not only as a school for youth but also as a specialized boutique community college for adults interested in sustainability, social entrepreneurship, and responsible global citizenship.
Programs, courses, events, and services that might be offered at the Institute include:
Volunteer and service-learning opportunities for students, retirees, and people of all ages
Sustainable social entrepreneurship courses and workshops
Civic engagement and service programs encouraging responsible local and global citizenship
Ecological courses and workshops in various aspects of green living (e.g. organic gardening, green building/renovation, etc.)
Integral health and well-being programs, including yoga, meditation, nutrition and healthy cooking, etc.
Holistic health services such as therapeutic massage and other treatments
Personal development workshops in communication, collaboration, and leadership
Vocational skills training in green careers, creative skills, and other areas that make meaningful contributions to healthy society
Incubator for promising initiatives from sustainable social entrepreneurs
Creative events and programs, including performances, exhibitions,  arts workshops, and content creation
Cultural programs fostering cross-cultural appreciation and collaboration, including exchange programs
Educational day care providing educational, ecological, and creative activities
Other courses, presentations, and events on important local and global issues
Community-building events of various descriptions
The Institute will offer these programs, events, and services to people of all ages and backgrounds, with a view to building community and catalyzing collaboration between the participants. Some programs would be free of charge while others would be charged at reasonable rates, with an unprecedented variety of meaningful work-study options available, thanks to the hybrid model.
Expected Results
The benefits arising from the Earthville Institute will be many, spanning the personal, community, and global levels. Here are some of the results that are most important to us:
A profoundly improved educational experience for learners young and otherwise, including:

Superior student engagement and retention
Better mastery of both traditional and next-generation subjects
Deeper understanding of self and others, leading to greater self-confidence and better relationships
Greater critical thinking skills and more developed creativity, leading to better problem-solving and innovation
Much-impoved readiness for college and the workplace, thanks to real-world learning experiences
Highest level of ecological and social sensitivity, with well-integrated awareness of local and global issues
Larger percentage of graduates who go on to excel in their further studies and their careers
More informed, empowered, and sensitive leaders of the future
Better-adjusted youth thanks in large part to the uncommonly positive and supportive culture of the learning community
And, yes, all this and better test scores, too

Significant contributions to the fields of charitable work, responsible business, and altruistic activity, especially in these areas:

Popularization of solutions that exemplify sustainability and compassion without compromise in quality of life or profitability
More volunteers recruited from the community, more meaningfully and fruitfully engaged in their work
Empowering inspired and capable social entrepreneurs who will do great work in the nonprofit, responsible business, and government sectors
A growing, better-prepared, skilled green workforce for educational institutions, charitable organizations, and responsible businesses
Advancing the collective understanding of best practices for international and cross-cultural collaboration
Compelling case studies in the value of creating an organizational culture that is more supportive, nourishing, balanced and sustainable

Green jobs created (ultimately hundreds of them) for the people who do the work of the Institute and its partners and offshoots, with high job satisfaction and greater impact of altruistic orientation and quality civic engagement among members our workforce
Valuable literature and media content created, spanning all our fields of interest, including both theoretical and practical material, enriching and advancing these fields
Increased harmony with deeper respect among people of different backgrounds and inclinations, with much lower incidence of prejudiced attitudes and behaviors
Replication and adaptation of the Institute's hybrid model and proliferation of some of its best ideas: Based on both experience and research, we expect this hybrid model's compelling combination of effectiveness and efficiency will inspire many others to take cues from the Earthville Institute model. We will do all we can to support this replication by making our approach completely open-source and by making members of the institute's team and community available to support others in adapting our proven solutions to their own needs and contexts.
Rational hope and applied inspiration: the sense of possibility and well-grounded can-do spirit that arises when one has lived, learned, and worked in a context that is so engagingly innovative, supportively nourishing, and inspiringly successful… and the sense of purpose that arises in those of us so moved, driving us to do what we can to extend these possibilities to others, and to maximize our potential individually and collectively.
Current Status
The core of the founding team has been developing the vision, resources, networks, and materials for this project since the 1990s.
We are now seeking funding to establish a startup-phase office in the US (ideally in Colorado or California, where Earthville already has core team members), so that planning can proceed efficiently and phase 1 programming can begin.
Help Us Make It Happen
The Institute will be developed in three phases.
Phase 1 — STARTUP: To facilitate the next stage of development, establish a temporary startup office for planning and development work, including five-year plan, architectural designs, team building, legalities, etc.
Budget requirement: approximately $150,000 to cover two years of focused planning and preparation by the core team.
Phase 2 – FACILITIES: Acquire a suitable property for the Institute and commence eco-friendly construction/renovation, while simultaneously developing programs and materials and conducting further team building and outreach, forging community relationships and strategic partnerships. This phase will also provide service-learning opportunities for students, interns, and volunteers interested in sustainability, responsible business, and organizational development.
Budget requirement: to be determined after initial study (during Phase 1); currently estimated at approximately $1,800,000.
Phase 3 – OFFICIAL LAUNCH: Open to the public and commence phase-3 program activities.
Budget requirement: Financial support required to cover net operational deficit for the first five years is estimated at $300,000 for Y1; $260,000 for Y2;  $200,000 for Y3;  $130,000 for Y4; and $50,000 for Y5; thereafter self-sustaining (total five-year operational support requirement estimated at $940,000).
Total estimated financial support required for all three phases (from planning and construction through the fifth year of operation and projected self-sustainability) is approximately $3 million.
Formal proposal available upon request.
To support the establishment of the Earthville Institute, please contact us.
Got ideas? We're listening. Feel free to post comments or questions relevant to the Earthville Institute in the comments section below. 
Get Involved
There are several ways you can participate in the Earthville Education initiative and make your unique contributions to this exciting project: