Groundbreaking News for Dharmalaya Institute
Himalayan Sustainable Development Project Underway
BIR, HIMACHAL PRADESH, INDIA: After a year of preparation, today Earthville's Dharmalaya team in India broke ground for the construction of a new, eco-friendly service-learning campus in the foothills of the Indian Himalayas. The Dharmalaya Institute will serve as the base for our sustainable village development projects in the Himalayas and will also provide volunteer service opportunities for international visitors as well as programs for the study and preservation of traditional wisdom.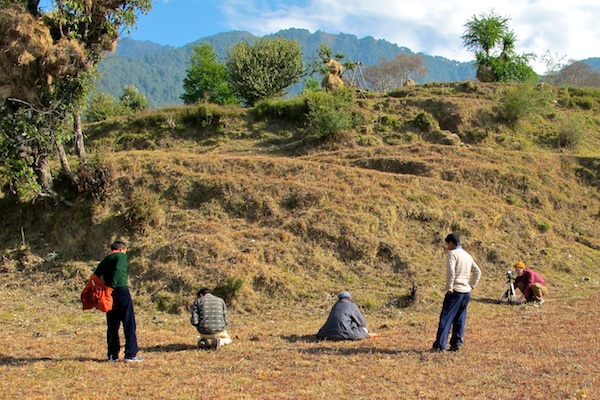 The day began with a traditional groundbreaking ceremony, culminating in the sharing of sweets in celebration of the beginning of the project. About a dozen local Indian villagers were joined by extra hands from Nepal, Switzerland, and the US. The site is an awe-inspiring hill on the outskirts of the village of Bir, about two hours by road from the bustling town of Dharamshala in the northern state of Himachal Pradesh.
UPDATE (March 17, 2010)
The Dharmalaya team has completed the digging of foundation trenches and laid the foundation stone for the first building of the Dharmalaya Institute.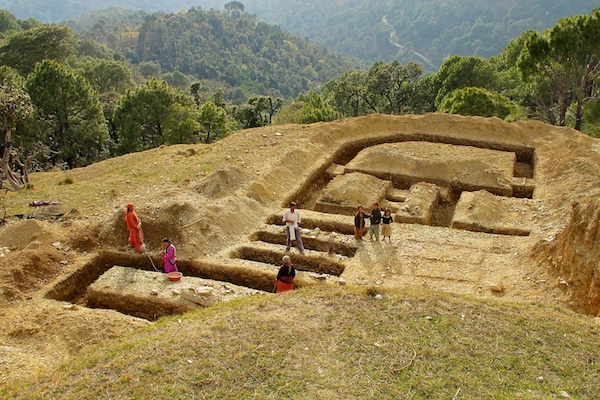 Would you like to support this unique East-meets-West service project? Dharmalaya is in need of cash contributions, grants, and other material support. Dharmalaya is a project of the Earthville Network and is also a registered charitable society in the Indian state of Himachal Pradesh, so all charitable donations are tax-deductible in India and the US. For details, visit the Dharmalaya Institute website.