Earthville Receives Tactics Grant: 1% for the Planet Contribution to Action Sports Environmental Coalition

OAKLAND, CA — Tactics, an Oregon-based responsible business, is a donor member of 1% for the Planet, an alliance of over 1000 businesses that understand the necessity of protecting the natural environment and are committed to donating at least one percent of their sales to nonprofit organizations working for the planet. Tactics gives yearly at the grassroots level to pioneering groups that make a difference, funding advocates who take strategic steps to protect habitat, wilderness, and biodiversity.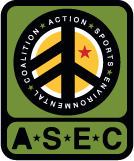 For 2010, Tactics chose the Action Sports Environmental Coalition (ASEC), a project of the Earthville Network, as one of its grant recipients. ASEC works to inspire the action sports industry and enthusiasts to value and take action toward social and environmental responsibility. ASEC is founded and supported by action sports athletes, industry leaders, participants, and natural products companies. Key supporters such as Bob Burnquist, Jen O'Brien, Danny Way, Geoff Rowley, Rob Machado, Cara Beth Burnside and hundreds of others, as well as industry leaders like Volcom, Quiksilver, Planet Earth, Tactics, and many more have asked themselves the question, "How can we utilize our collective power to do our part to improve life quality and evolve the industrial consciousness of our planet?" ASEC is the action sports industry's response to that question.
The Tactics partnership with 1% for the Planet is the foundation of its annual grants program. The businesses that participate in the 1% for the Planet alliance understand that profit and loss are directly linked to the health of our ecosystems. In addition, these businesses are concerned with the social and environmental impacts of industry. As a member, Tactics is committed to donating 1% of its annual net revenues to environmental organizations. It is a serious obligation, but one that Tactics believes is the right choice. "We are stoked that since joining 1% for the Planet in 2007, our combined giving over the last four years has topped $250,000. Thanks to our customers and our staff for backing this commitment," said co-owner Matt Patton.

From its eco-campus in the Indian Himalayas (Dharmalaya Institute) to the FSC-certified skate ramps of California (ASEC), the Earthville Network is committed to both traditional and innovative solutions for environmental preservation and ecological sustainability worldwide. Earthville is a beneficiary nonprofit in the 1% for the Planet alliance, so member businesses of the alliance can count their contributions to Earthville toward their minimum 1% annual commitment.
If your business would like to support Earthville through 1% for the Planet grants, we welcome you to contact us here and then contact 1% for the Planet to let them know you wish to support the Earthville Network.