ASEC Builds Eco-Friendly Skate Parks in LA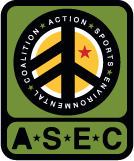 LOS ANGELES: Action Sports Environmental Coalition (ASEC), an Umbrellavator project of the Earthville Network, kicks off a new program with tricks for treats on Halloween weekend. Action sports stars and industry leaders unite with two Los Angeles communities to donate America's first two eco-friendly skateparks. ASEC built both of the skateparks with FSC-certified wood, which means the logging is managed according to principles of sustainability. The youth win, the trees win, LA wins and ASEC gets props for making it happen.
For more information, visit the ASEC website.