The Roads Will Be Paved with Art
Earthville on Location in Vietnam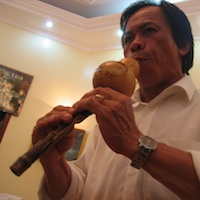 HANOI: Earthville founder Mark Moore joined Jane Coyle (of the Vietnam Fund for Education, Music and Infrastructure) and Lubosh Cech on a month-long mission to Vietnam to produce audio recordings and a documentary film telling the inspiring story of a family of phenomenally talented and highly respected traditional musicians in a village about an hour outside of Hanoi. The resulting film and audio CDs will be sold to generate revenue to improve living conditions in their village by rebuilding their crumbling school and paving a new road from the village to the nearest town.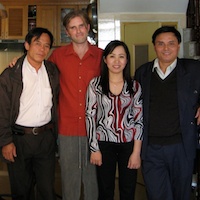 The audio CDs will be released in 2007 on the Earthville Music label [formerly known as "Earthville/CreatioNation"]. The documentary film is currently in production and seeking funding for completion.
To explore the story in depth and follow the project as it unfolds, drop by the Earthville Arts page.