Parallel Paths to Peace: A Libya-Tibet Nexus in Switzerland
Earthville's Founder Mark Moore reflects from Switzerland on the Libya crisis, viewed through the lens of a visit from a Tibetan meditation master.
By chance, world leaders and I are in Geneva today, on peace missions of different sorts. Events of the past two weeks spur reflection on the ways in which their big mission and my little one intersect.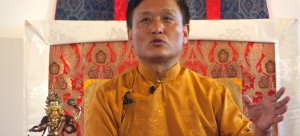 I arrived in Switzerland feeling quite concerned about potential US military strikes against Syria and their uncertain consequences, but it was inner peacemaking that brought me here: an irresistible invitation to jump in and help a group of dear Swiss friends put on a three-day program with Tenzin Wangyal Rinpoche, a Tibetan meditation master of the Bön tradition. I've long and much appreciated Rinpoche through his writings and webcasts, but previously hadn't had the chance to see him in person. One of the perks of hosting such an event (in addition to the karma points) is the opportunity to spend a little time in the company of an inspiring human — an educator who lives what he teaches, who embodies peace and kindness while he works to spread them.
Naturally, Rinpoche, too, was concerned about Syria, as we quickly learned. A Swiss TV team had picked him up from the airport in order to have a bit of time with him before filming an interview at the place where we awaited him, the home of two of my friends who were part of the team organizing the event. Not long after he walked in the door and greeted us with hugs, we got to talking. Rinpoche, who now lives in the US when not traveling internationally to teach, asked if I thought the US would strike…